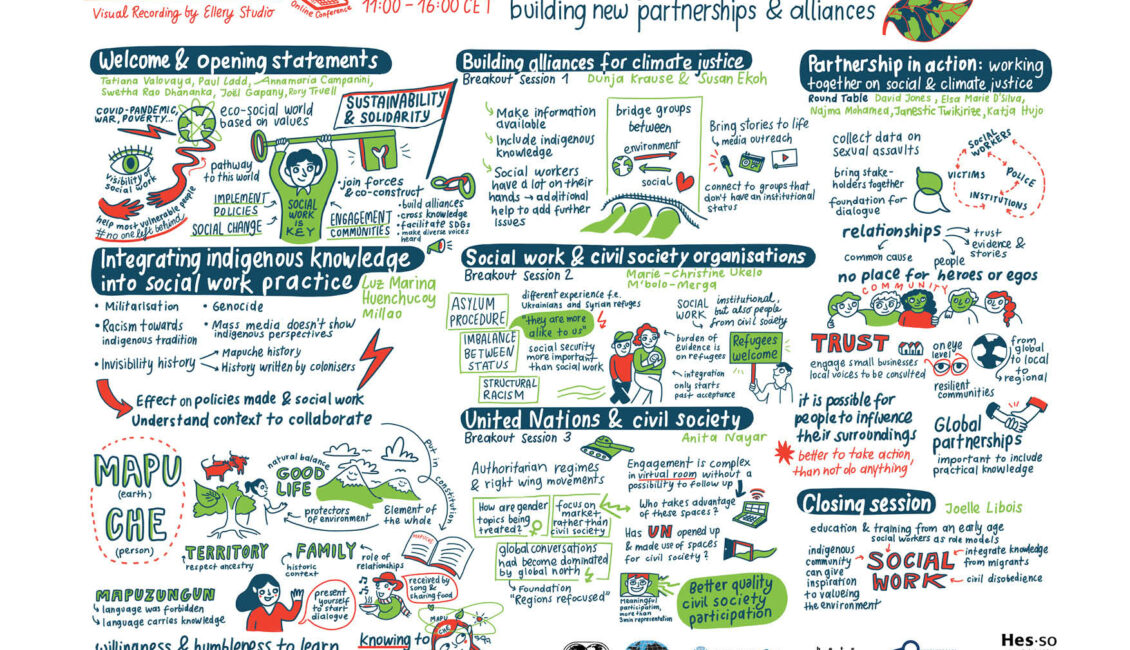 On Wednesday 16 March, World Social Work Day was held at UN Geneva: "Repositioning Social Work in an Eco-social World. New partnerships, new alliances". More than 200 people participated in the event, which for the second year in a row was held by video conference, allowing participants from all continents to attend.
Today, in the 21st century, the constant pressures of globalization and the unbridled drive to increase productivity are depleting the ecosystems from which humans derive their resources and well-being. Faced with climate issues and the challenges of living together, we look to social movements to find ways of rethinking community and renewing our understanding of social issues, our relationship with the Earth, with all living beings and the spirit of humanity. By calling on the skills of those who often find it difficult to speak out or are not considered worthy of being listened to, social workers can leverage these neglected voices, day after day, alongside NGOs, governments and international organizations.
What role for social work in the emergence of an eco-social world?
Over the course of the day, the presentations and discussions highlighted several areas in which social work can and must play a key role in the years to come. With its ability to facilitate different ways of speaking out, its role is that of a go-between, sometimes a mediator, but also a force for awareness raising and mobilization.
With Luz Marina Huenchucoy Millao and the example of the Mapuche people in Chile, the importance of Indigenous societies as a source of inspiration, and the need to integrate Indigenous knowledge into social work practice were highlighted. Social work also has a role to play in the implementation of climate change adaptation policies that take into account the impacts on people's lives and livelihoods; and in supporting new educational models in childcare and popular and informal education that teach about preservation and the ecology of our relationship with the Earth.
What about tomorrow?
Faced with the challenges of future societal transformations, we must rely more than ever on the strength of alliances: establishing multiple public, private and associative partnerships, and working collectively―whether as UN agencies, actors in the field, teaching and research teams, students and international associations in the field of social work―to carry out concrete projects for social and climate justice. The Peoples' Global Summit will build on the productive discussions at World Social Work Day as it works towards co-creating a new eco-social world where no one is left behind.
For more information
Source : Haute école de travail social | HES-SO Genève | www.hesge.ch/hets