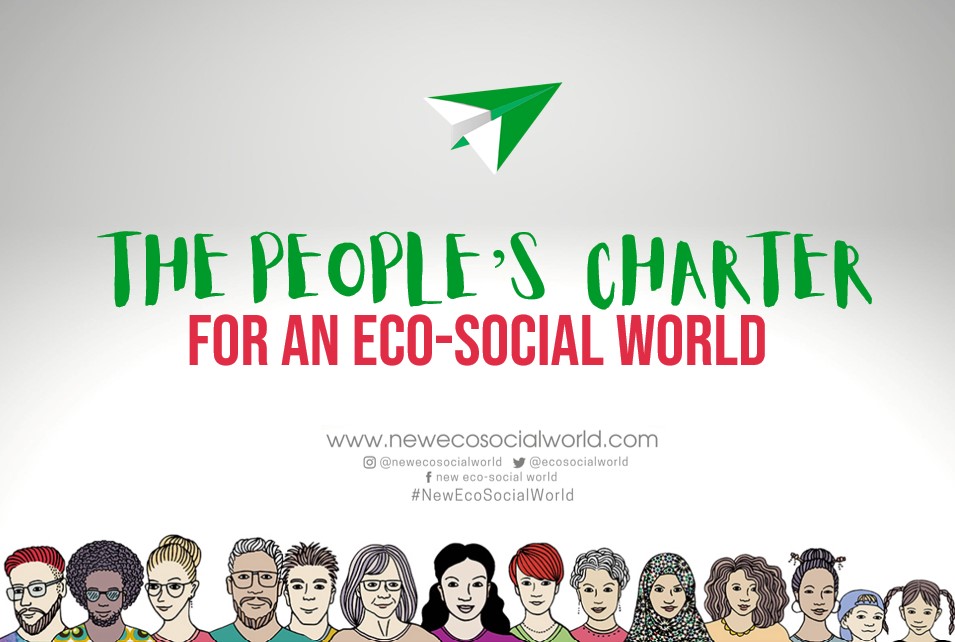 The Peoples Charter for an Eco-social World has been developed from the People's Global Summit which concluded today.
Community leaders in Sierra Leone, the 5th poorest country in the world, reflected that "This Charter acknowledges that we need to have leaderful communities that acknowledge our global and local interdependency for sustainable development. The Charter replaces the concept of aid which has failed over generations to change the dynamics of poverty and international exploitation. We now have hope that we can develop new levels of cooperation that make a reality of the pledges from the world's leaders. This will only be realised by working in accordance with the values of the People's Charter for an Eco-Social World."
From the Scottish Government, Richard Lockhead, the Minister for Just Transitions, Employment and Fair Work, emphasised the need for elected politicians to listen to and involve communities in between elections and in how public spending happens. He highlighted co-design and co-building with local communities to transition from coal mining to new industries for the current workforce and investing in education and work transitions for young people. He argued that there is a need for international co-learning and co-building sustainability across national borders as old ways become obsolete and new paths are created.
Civil society activist Kumi Naidoo, from South Africa, contributed examples of how we can work together creatively to inspire change and transformation. He talked of a very small window that now exists where there is a global appetite for structural change. The power of people will be realised, he suggested, when our friends, families and neighbours take ownership of this living Charter. The energy for this was echoed throughout the summit and strongly emphasised by youth and student contributions.
Antonio Guterres, UN Secretary General recognized that humanity is facing acute and existential challenges, but that "We, the people, are being let down" by the world's leaders. He stressed the importance of international solidarity to not only speak out about our challenges, but to expect engagement between local and global leaders and civil society so that together we can achieve a sustainable eco-social world.
The Charter, which comprises voices from throughout the world, highlights the importance of participatory democracy in effecting transformational change. It proposes transitioning economies away from those who success is measured purely by profit, towards "sustainable wellbeing societies" – an approach already being adopted by some governments. The public service professions recognised that this will require policy and practice to shift away from crisis reaction towards investment for sustainable and resilient shared futures. The global green movement highlighted the importance of interlinking environmental concern with social justice, ecosystems and participatory democracy.
In the Summit closing address, Rebeca Grynspan, Secretary General of the United Nations Conference on Trade and Development said people, have contributed new perspectives and that participants of the summit are both the community frontlines of impact, and the frontlines of solutions, those who day-in day-out seek to leave no one behind. Echoing the Secretary-General of the United Nations, she said that the UN is committed to be a part of the building process for a new eco-social world.
The People's Charter for a New Eco-Social World will be delivered to the United Nations High-Level Political Forum in July 2022 and will create a catalyst for further global action.
See the People's Charter for an Eco-social World here.