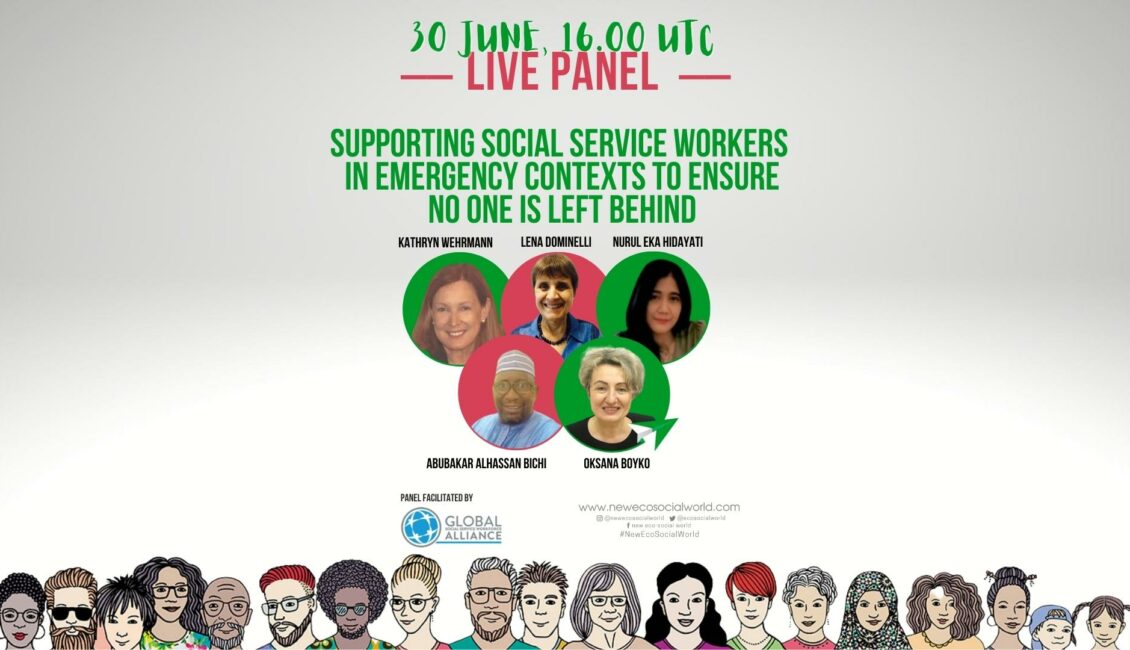 Click here to join LIVE. 30June, 16.00 UTC:

Live Panel facilitated by the Global Social Service Workforce Alliance – GSSWA
Conflicts, climate-related disasters and widespread disease outbreaks, most notably the COVID-19 pandemic, have led to rapid increases in the numbers of people and communities in need of emergency social assistance and social work support. Social service workers play a crucial but often unrecognized role in helping people and communities impacted by such emergencies. They have the skills and knowledge to identify, assess and engage with people impacted to ensure no one is left behind.
In such contexts, however, social service workers are likely to experience less than ideal working conditions placing them at increased risk of high levels of stress and other forms of psychosocial distress and burn out.  This makes it more challenging for them to effectively deliver services. This includes long work hours, large and complex caseloads, limited access to resources, the need to continually adapt their practice, and concern for their (and their families') own health and safety.
During this panel, social service practitioners familiar with working in emergency settings – pertaining to conflict, climate-related disasters and health emergencies – will share their personal experiences, describe their work and provide insights into how organizations and humanitarian assistance systems can better support social service workers in emergency contexts.
Panellists:
Nurul Eka Hidayati, Secretary General of Indonesian Social Work Consortium/Second Chair Person of Indonesian Association of Social Workers
Abubakar Alhassan Bichi, Deputy President of the Nigerian Association of Social Workers (NASoW)
Oksana Boyko, Associate Professor, Head of BA in SW Program, National University of Kyiv-Mohyla Academy, Ukraine
Opening Remarks: Kathryn Wehrmann, Associate Professor of Social Work, Illinois State University, USA, and Chair of the Steering Committee of the Global Social Service Workforce Alliance
Facilitator: Lena Dominelli,  Director of the Programme on Disaster Interventions and Humanitarian Aid, University of Sterling