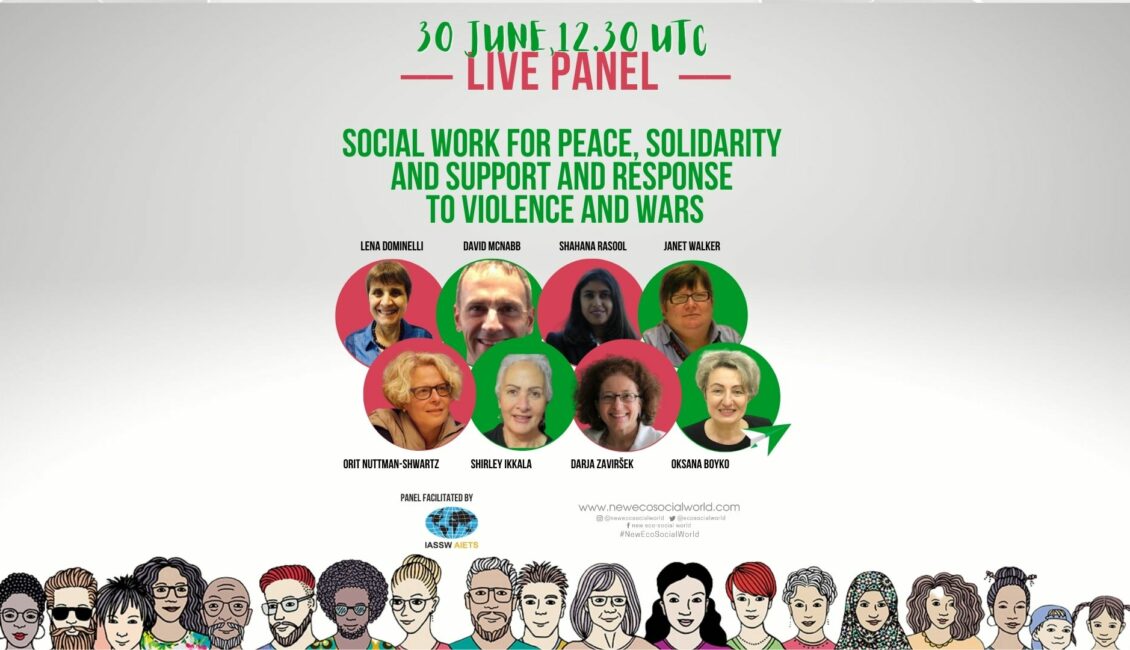 Click here to join LIVE. 30 June, 12.30 UTC:

Live Panel facilitated by The International Association of Schools of Social Work – IASSW
This panel is composed of social workers from England, Israel, New Zealand, Slovenia, and South Africa who have experience with violence and war and in building solidarity, providing support and promoting social cohesion and peace. Addressed during this panel will be weekly meetings with social work academics in Ukraine organized by the East European Sub Region of IASSW in solidarity and actions aimed at providing support focusing on expressed needs of Ukrainian colleagues and the limitations and opportunities of this kind of support. The newly created Social Work for Peace (SW4P) network organized to support Ukrainian social and community workers providing services and hope to people surviving the war, whether defending their homes within Ukraine, or fleeing to other lands for safety; violence against indigenous communities and gender based violence; and responses to post-traumatic stress ranging from pathological symptoms and vulnerability to healthy responses, hardiness, and resilience.
The panel will discuss the social workers' approaches and strategies of intervention, implications for educational and professional training, and roles of social workers before, during and after traumatic events and will stress the importance of building solidarity, providing support, antimilitarism and promoting peace for all acts of violence and war.
Panellists
Orit Nuttman-Shwartz: Social worker, professor at the School of Social Work at Sapir Academic College (Israel)
David McNabb, Senior Lecturer – Social Practice, School of Healthcare and Social Practice at UNITEC (New Zealand)
Shirley Ikkala Professional Teaching Fellow at University of Auckland. New Zealand.
Shahana Rasool University of Johannesburg. (South Africa)
Darja Zaviršek Sub-Regional Representative – President Of East European Regional Association. (Slovenia)
Oksana Boyko, National University of Kyiv-Mohyla Academy (Ukraine)
Lena Dominelli, Stirling University
Facilitator: Janet Walker